If we have provided all of the tasty samples, you ought to be curious about how to build your own SPLOT sites. Here's some guidance.
For Chefs With WordPress Chops and their Own Kitchens
If you have your own hosted web site and are able to install WordPress, you can find install instructions on the GitHub hosted sites for each of the themes.
For Wanna Be Chefs New To This Stuff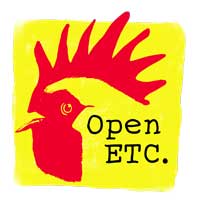 Do not be daunted by tech talk, we have some easy baking instructions to get you started, courtesy of the OpenETC the open education technology cooperative that is available to all faculty, staff, and students at post-secondary institutions in B.C.
If you have an OpenETC acount or need to create one, go directly to https://opened.ca/get-started/ — be sure toy use an institutional email address so the site knows that you are affiliated with a BC institution.
Once logged in,you can create a new WordPress site, all you need to do is choose the part of the web site address that will be on the left side of of opened.ca (like palooza.opened.ca or chickenbox.opened.ca, yep those are real sites so you have to create a unique domain name).
To create a new site with TRU Writer or TRU Collector already installed, click the one you want under "Select a Site Template", then click Create a Site and it should appear from the oven (there is a bit more to learn about setting up your sites, see the documentation for TRU Writer or the documentation for TRU Collector).
If you are interested in creating a SPLOTbox, skip the "Select a Site Template" step to create a WordPress site with the default theme. Once it is created, i your WordPress Dashboard, go to Appearance -> Themes. Scroll down the list of themes until you see Splotbox. Hover over the mame and click Activate. Refer to this theme's documentation for details on how to set it up.
The Not So Small Print: Get Help
Well I (Alan) must admit that if this is your first time or close to using WordPress, it can be bewildering and not so easy. That's where the idea of the OpenETC as a cooperative comes in, you have a community of others to tap into. That's where their Mattermost service comes into play (it's an open source collaboration platform similar in features to Slack or Teams).
Once logged into the OpenETC Mattermost, look for the SPLOT channel as a place to ask any questions about using WordPress.
Workshop Parts
Next, move on to another section or return to the entry of the workshop.
---
Featured Image: Wikimedia Commons image 1970's easy bake oven 2013-09-17 19-40 licensed CC BY-SA modified by Alan Levine to be sporting a SPLOT logo shared under the same license (cause that's how the SA rolls!)